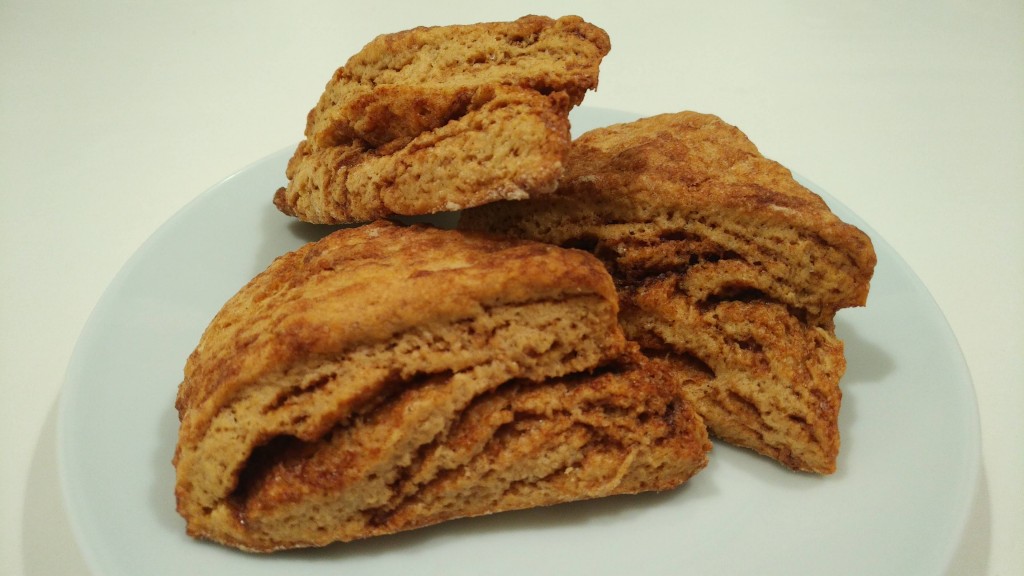 When I was in high school I spent my summers in the northern part of Michigan. There was a coffee stand set up in the town plaza which also served some pastries, my favorite of which were the cinnamon scones. Along with my caffeinated beverage I ate one of those scones as a snack nearly every day. It was dense enough to fill you up, but still soft and flaky. And it had the perfect amount of sweetness, so that it wasn't bland but also didn't feel like eating a dessert. I have yet to find such a good cinnamon scone anywhere else I've gone, so I set out to make them myself. This recipe is my best attempt, after some trial and error, to recreate those perfect scones.
The key to making scones (much like with pie crust) is keeping the butter as cold as possible during the preparation of the dough. In order to help with this I usually put my butter in the freezer for a few minutes before I start.
Ingredients:
2 cups all-purpose flour
1 tablespoon baking powder
3/4 teaspoon salt
1/2 cup brown sugar
2 tablespoons cinnamon
6 tablespoons unsalted butter
2 large eggs
1/3 cup heavy cream
1 teaspoon vanilla extract


Process:
Preheat your oven to 400 F / 200 C
Cut the butter into small chunks, and then place in the freezer to keep it cold until we add it to the mix
Combine the flour, baking powder and salt in a large bowl
Mix in half of the brown sugar (1/4 cup) and half of the cinnamon (1 tbsp). Combine the other half of brown sugar and cinnamon together in a separate cup or other small bowl. We will use this later for the swirl!
Whisk together the eggs, heavy cream and vanilla in a separate small bowl
Now add the chopped butter to the large bowl. Using a pastry cutter (or your hands), mix the butter with the flour and break-up the butter so that it becomes crumbly. (remember to act quickly on this step, you don't want to warm the butter too much with your hands)
Make a well in the center of the bowl and pour in the egg mixture. Use a fork to roughly combine and then turn it out onto a lightly floured surface. Knead a few times so that it's all mixed well.
Pat the dough down so that it's spread out a bit flat, then take that extra brown sugar and cinnamon we reserved earlier and spread it out on top. Fold the dough on itself a few times so that this sugar gets mixed around. Knead just until the dough comes together again.
Once again, pat the dough down to a thick flat disc, about 8 inches in width. Use a knife to cut like a pie, so that you get 8 triangle slices. Spread them out on a baking sheet and place in the oven for roughly 14-16 minutes.